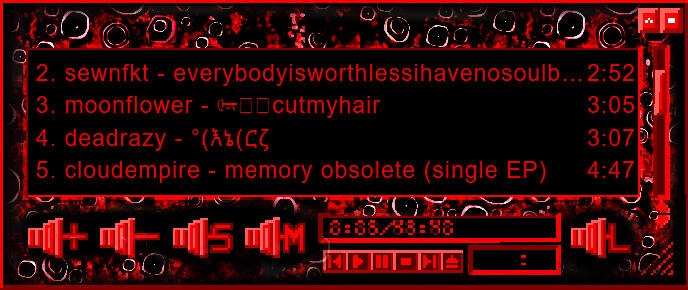 ▹coffee / bego / narancia & other kin names (jesse, eddie, death, etc)
▹any/gore/hoot
▹18, turkish
▹enby, neptunic
▹inxj
↠ BEFORE YOU INTERACT ↞
▹i have ocd and adhd. it's very hard to control myself when i'm triggered so PLEASE don't take it to heart when i'm in an episode. (this happened too often)▹i say slurs that i can reclaim, and i like bullying my close friends. if i bully you, it's only with good intentions.▹normally, i'm hyper and can come across as childish at times▹i can get comfortable quicker than the average person▹i fucking hate being called childish / immature in a derogatory way.
---
↠ DO NOT INTERACT - FUCK OFF IF THESE FIT YOU ↞
▹general dni criteria (racists, transphobes, ableists, etc)▹overly sensitive people (this includes both "why is your oc white ur so racist" & "pronouns in bio detected lol troonfag snowflake" people)▹lolicons/shotacons, anti-furries, proshippers,
super-straights▹capitalists, anarcho-capitalists, republicans
↠ BLACKLIST ↞
▹IDIOT CAT ZONE
kk_peanut / kennietenko , slinkydoodle9802 / gothalicious, Shinryushouse, warriorcat39, nyanlin / yilinzc, scribbleCritterReasons : overly sensitive, accused me of racism, hypocrites and backstabbers, sexists (had a problem with my friend being a cis guy), accused me of excusing myself with my issues without listening to me, picking messages out of context... overall awful people.
↠ ARE YOU READY YOU FUCKIN CUNT!! ↞
-----------------------------------------
GAMES
omori, minecraft, roblox, terraria, fnaf, danganronpa, imscared, garry's mod, genshin impact, yakuza series, metal gear revengeance, devil may cry, bayonetta, undertale and deltarune, dead by daylight, osu!, spore, huniepop and huniecam studio, degrees of lewdity, deep rock galactic, cult of the lamb, don't starve
-----------------------------------------
MUSIC
game ost, future funk, synthwave and vaporwave, jazz, breakcore, speedcore, extratone, metal, city pop, classical, indie, shoegaze, vocaloid, hip-hop, rap, trashwave
-----------------------------------------
MOVIES & SHOWS
stranger things, arcane, platform, midsommar, hereditary, cube (only the first movie), the lighthouse (2019), vvitch, saw, texas chainsaw massacre, scream, ted, interstellar, scary movie, breaking bad
-----------------------------------------
ANIME & MANGA
jjba, aggretsuko, saiki k, junji ito's works, pumpkin night, demon slayer, chainsaw man, otomatsu, asobi asobase, elfen lied (there's probably more that i forgot)
-----------------------------------------
HOBBIES & OTHER INTERESTS
drawing, collecting, video games, true crime, zoology, astronomy, witchcraft, psychology, anatomy, cooking, music, cryptids, horror, coding
FIND ME HERE ;;
instagram - coffeemuncho
tumblr - @coffeemuncho
neocities - coffeemuncho (coffeemuncho.neocities.com)
tiktok - @coffeemuncho
@coffeemuncho_art
toyhou.se - coffeemuncho